t took a pandemic for Pedro Manzanares and his coworkers at El Milagro tortilla factories to overcome the fear of losing a stable job and rise up against their employer to demand higher wages and better working conditions.
The victory was sweetened with $1.3 million in collective wage increases, air conditioning in lunchrooms and anti-sexual harassment training for managers. The company also promised workers Sundays off, though workers say the company hasn't delivered on that promise. Manzanarez, a father of two, hasn't had a Sunday off since he began working at the factory almost two decades ago.
When COVID-19 hit in March 2020, El Milagro workers feared the deadly virus was quickly spreading throughout the Southwest Side factories but were afraid to speak up. With no protective measures in place, those that could leave their job, quit. But with stay-at-home orders that shuttered businesses and dried up jobs, many workers continued working the already short-staffed production and packing lines. "If we didn't work, then there was no money for food or rent. So you work or you don't eat," Manzanares said.
Machines sped up to meet demand, exhausting workers who tried to keep up with production quotas, he said. He and other workers went home with achy bodies and backs, turned on the news and felt unbearable stress and fear as they heard reports of increasing cases and deaths. At the factory, rumors spread quickly about who was infected, possibly in the hospital or on a respirator. Finally, when one coworker who had COVID-19 died, Manzanares said management acknowledged that COVID-19 was spreading among workers and shuttered the Little Village plant where he works for quarantine. In the first two years of the pandemic, worker organizers said at least 85 El Milagro workers contracted the virus and five died.
Eventually, El Milagro began hiring new workers. Manzanares and colleagues soon learned newer workers were earning slightly higher wages than what he and others who had spent years, even decades, working for El Milagro earned. To their surprise, some veteran workers' hourly wages were below $15. "How could it be that a woman who has given most of her life to this one company is earning less than minimum wage?" Manzanares said.
"We finally felt the mental impact of really understanding that we were being abused as workers," he said. Instead of quitting their jobs, Manzanares and others at El Milagro chose to look inward to galvanize change and find a sense of security on the factory floor through strategic, collective organizing.
Spurred on by a pandemic that exacerbated workplace inequalities for low-wage workers who were deemed essential, worker organizing is gaining steam in Chicago. The trend is particularly strong among immigrant workers who are employed at food production sites in the city's Southwest Side and the suburbs.
In the early stage of the COVID-19 pandemic, these essential, immigrant workers felt trapped and often abandoned in working environments that lacked social distancing protocols and personal protective equipment. Because of their immigration status, many had no access to social safety net benefits such as unemployment assistance and stimulus checks.
Sophia Zaman, executive director at Raise the Floor, a coalition of Chicago-area worker centers, said working during a public health crisis made the workers realize that they had nothing else to lose by rising up and demanding better treatment and pay.
"It is a time where it really can't get worse than this and folks are seeing that there is also real power in coming together with your coworkers," Zaman said, adding that her group has seen workers question their working conditions with more furor in a number of low-wage industries –– from food production to domestic work.
Nationwide, some workplaces were hotspots of COVID-19 outbreaks. One study cited in an Investigate Midwest report found that workers in the meatpacking industry were directly linked to 6% to 8% of overall COVID-19 cases in the country and 3% to 4% of all national COVID-19 deaths. Individual state studies confirm the national figures. A California study that examined deaths in the state by industry found that low-wage workers in food, transportation and manufacturing were at particularly high risk to die from COVID-19. In Illinois, the factory and manufacturing industries account for the largest number of COVID-19 outbreaks –– nearly 12 percent of all statewide outbreaks since July 2020, according to Illinois Department of Public Health reporting. Food production, however, represented less than 2% of COVID-19 outbreaks.
It's under this environment that workers pushing their employers to improve wages and working conditions.
Worker activism is also giving unions a boost in memberships. After decades of a steady membership decline, petitions for union elections are up 57% in the first half of fiscal 2022 from the same period last year, according to the National Labor Relations Board (NLRB). "Right now, there is a surge in labor activity nationwide, with workers organizing and filing petitions for more union elections than they have in the last ten years," the agency said in a press release.
Public opinion of unions is at an all-time high since 1965, with a 68% approval rating, which rises to 77% among Americans ages 18 to 34, according to a 2021 Gallup poll.
Some workers who don't see themselves represented in traditional unions are forming their own. Amazon warehouse workers in New York made history in a vote to unionize with the Amazon Labor Union, the grassroots labor organization founded by Christian Smalls and other current and former Amazon employees in Staten Island. The unionization wave has also touched the service sector. In December 2021, a Starbucks in Buffalo became the first among the 9,000 corporate-owned stores in the United States to vote to unionize. Since then, employees at more than 256 Starbucks have filed for union recognition in more than 30 states, including at six stores in Chicago, according to a City Bureau analysis of NLRB data.
In the Chicago region, which includes Cook and surrounding counties, the NLRB reported an 83% increase in union election petitions –– from 35 in the first half of fiscal 2021 to 64 election petitions in the same period this fiscal year. It was the third-largest increase in election petitions nationwide. During the same period, the region has also seen an 11% increase in unfair labor practice charges, which workers can file if they believe an employer or union has violated labor law, the NLRB said.
The spike in local union petitions is connected to a rise in employee grievances during a pandemic where companies in an array of industries, from food production to e-commerce, made record profits, said Robert Bruno, a professor of labor and employment relations at the University of Illinois Urbana-Champaign. "Essential workers were really not well compensated, or even if they were decently compensated, many didn't feel like they had enough voice on the job where they were exposed to risks," he said.
Local workers are also banding together without unions, forming instead worker committees which, like a union, are protected by federal labor law. However, employers are not required to recognize or bargain with them. Worker centers and local labor groups say they have received an increasing number of calls and complaints about workplace safety issues and pay disparity since the pandemic began.
Labor groups said the calls rose last year, when employers struggled to hire new workers and old-timers felt pressured to pick up the slack.
Millions of workers across the country have left their jobs en masse after enduring a deadly pandemic. The trend accelerated in the final two months of 2021, when nearly nine million Americans quit their jobs, according to the Bureau of Labor Statistics. The trend was dubbed "The Great Resignation," and it is considered a shift toward a worker's market, with employers competing over talent and offering higher wages and cash bonuses to lure workers back in.
The trend was visible in Chicago's food production plants, including El Milagro.
"In order to attract employees, some of these companies were paying these workers a lot more money than the current employees that had been there 30 years, 20 years, in some cases, at El Milagro, 40 years," said Laura Garza, worker center director at Arise.
Garza said that to meet quotas with fewer workers, companies sped up the machines.
"People were asked to work a lot faster and harder and ultimately their bodies were being injured, their hands or backs or feet, because they just couldn't keep up with the demand," Garza said.
That's what drove El Milagro workers to create a worker committee and loudly push for changes, a campaign that has inspired other immigrant workers. "If you're a [food] production worker, you can now point to a story of a comparable worker who was successful and it's easier to conceptualize, like wow, we actually can do this," said Jose Uribe, a workplace justice campaigns organizer with Arise.
Earlier this year, workers at Authentico Foods sought to address low pay, abusive managers and insufficient breaks under the state's One Day Rest in Seven Act. The company has several factories in the city's Southwest Side that make tortilla chips, tostadas, tamales and masa under La Guadalupana and El Ranchero brands.
The workers organized a worker committee led by Sandra Fernández, who had worked in quality control at Authentico Foods for three years. Fernández and other workers said they brought their concerns to management but were ignored.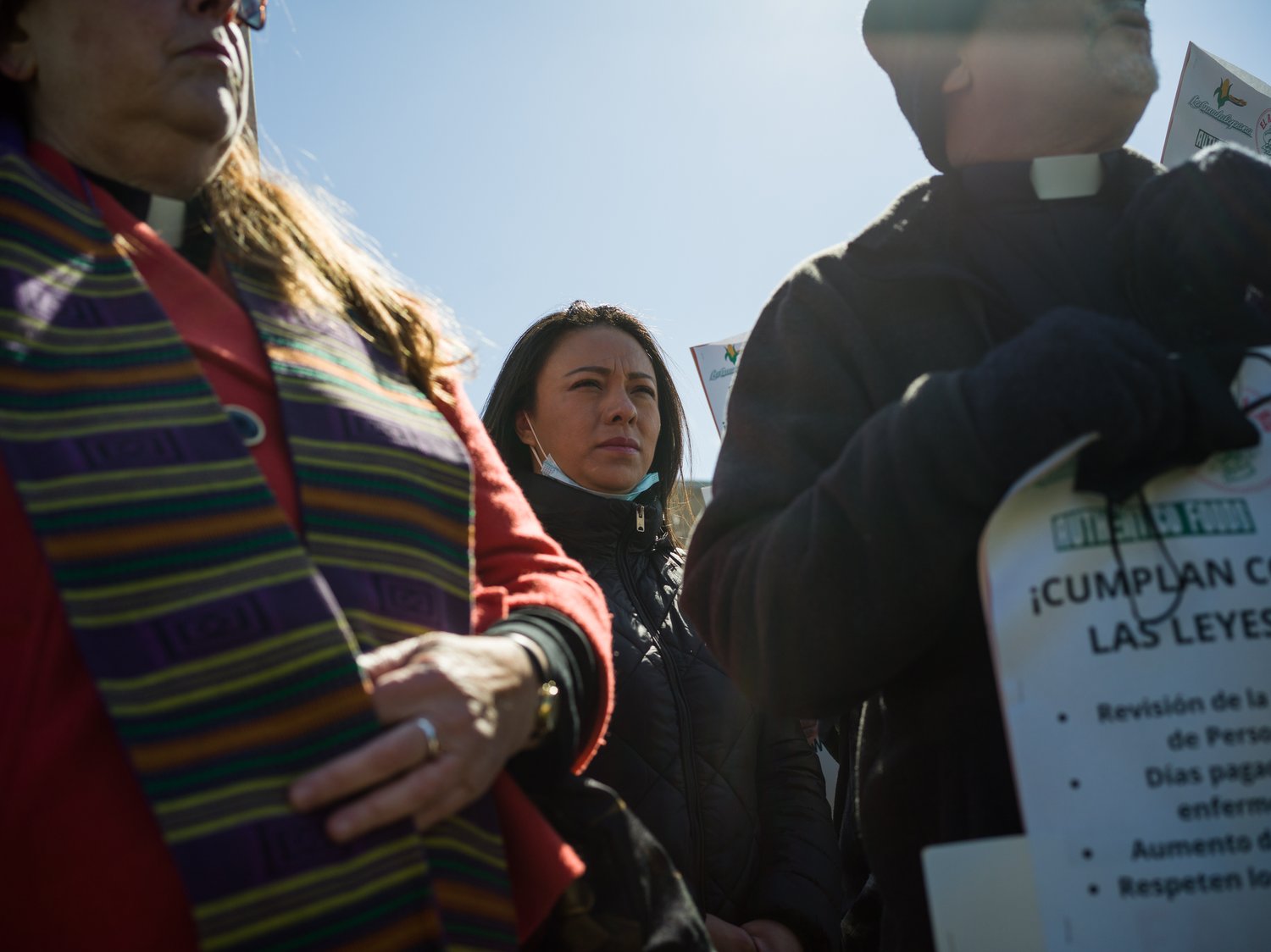 At the height of the pandemic, Fernández said she worked double shifts to keep up with production demands, often starting her workday as early as 3 a.m. and relying on friends to watch her children at home.
"The company made a lot of money during the pandemic. We couldn't meet the demand and that's why we were working nonstop. It was a really scary time for us but we knew we deserved more," said the Little Village resident.
Fernández was one of three workers who say they were terminated for unclear reasons after forming a worker committee and electing representatives on March 11. Fernández said that Authentico Foods fired her at the end of her shift on March 19 in retaliation. She later filed a complaint with the NLRB for workplace retaliation. Fernández said in a recorded video statement with Arise that the company offered her money to drop the charge, which she said she refused.
"These companies should learn that [workers] are waking up. We will not be silenced anymore and we are going to stay in the struggle for our rights," said Fernández in the video.
In a statement provided to City Bureau, president and CEO of Authentico Foods Alejandro Castro said, "We don't comment on employee concerns. We have an open-door policy through which our employees are welcome and encouraged to discuss and resolve their concerns with management."
Authentico Foods workers recently won some verbal commitments from the company. It pledged to improve wages –– a one-dollar raise across the board plus twenty-five cents extra for workers with seniority, which already went into effect. The company also promised to review and update its sick time and breaks policy and to provide training for managers. (The Illinois Department of Labor said it is investigating potential violations of the One Day Rest in Seven Act at Authentico Foods.)
Authentico Foods representatives also met with the worker committee, which asked the company to hire back the worker leaders it fired. However, the company has yet to rehire them.
Despite losing her job, Fernández remains steadfast in what she accomplished with her coworkers, the risks they took and the power she felt in her own voice: "We saw what El Milagro workers did and we thought, if they can, why can't we too?"
For Manzanares, the El Milagro worker, organizing with his coworkers against his employer instead of quitting outright felt akin to the victory of the underdog in boxing — a final agile rematch after years of mistreatment at his Little Village plant, where the worker has now finally held strong in the ring.
What had started in 2020 with whispers and conversations on the factory floor about pay disparities snowballed into discussions about other workplace conditions at worker committee meetings. Then, the workers collectively outlined their demands with support from Arise.
Manzanares was the representative who delivered two letters of demands to the head of the company's human resources in September 2021. When El Milagro management didn't respond directly, workers staged a work stoppage and protests outside the company's 26th Street main office. They also organized a Day of the Dead vigil honoring and remembering the five El Milagro workers who died after contracting COVID-19.
El Milagro did not respond to City Bureau's request for comment. The company has disputed the workers' account, telling Chicago Eater in April its wage increases and other actions were not a result of worker organizing.
The workers also complained to the city and the state. In March, the Illinois Department of Labor issued a $11,200 fine for El Milagro's failure to provide employees with required meal breaks, according to documents released through a public records request. The violations are now with the Office of the Illinois Attorney General, which enforces the law when the fine is not paid within 20 calendar days for violations. Separately, Chicago's Office of Labor Standards has active investigations into complaints of paid sick leave violations and violations of the Fair Workweek Ordinance at all El Milagro locations in Chicago.
While in the past, Manzanares feared going to management's office, he now feels emboldened and arm-in-arm with fellow workers. He and his coworkers won tangible victories, like wage increases, despite the company's ongoing refusal to meet with the worker committee and honoring its promise of Sundays off. Workers continue to push the company to make good on that promise.
"At the end of the day I decided to leave my fear behind and to do what was right, and that's what we all did, we decided to lose our fear and stick to our values," he said.
After all those years, he could finally speak.

Sarah Conway is a senior reporter at City Bureau covering jobs and the economy of survival in Chicago. You can reach her with tips at sarah@citybureau.org.
---
This story is available to republish under a Creative Commons license. Read City Bureau's guidelines here.
Support City Bureau's community-centered reporting by becoming a City Bureau sustaining donor today.
To get twice-monthly emails including Chicago news and events, sign up for City Bureau's Chicago newsletter.
Correction: Due to an editor's mistake, a previous version of the story said workers would be paid for Sundays off. The story has been corrected.
This story is a part of the Solving for Chicago collaborative effort by newsrooms to cover the workers deemed "essential" during COVID-19 and how the pandemic is reshaping work and employment.
It is a project of the Local Media Foundation with support from the Google News Initiative and the Solutions Journalism Network. The 19 partners span print, digital and broadcasting and include WBEZ, WTTW, the Chicago Reader, the Chicago Defender, La Raza, Shaw Media, Block Club Chicago, Borderless Magazine, the South Side Weekly, Injustice Watch, Austin Weekly News, Wednesday Journal, Forest Park Review, Riverside Brookfield Landmark, Windy City Times, the Hyde Park Herald, Inside Publications, Loop North News and Chicago Music Guide.